Welcome to America's Boating Club®
Tacoma and South Puget Sound where our goal is to: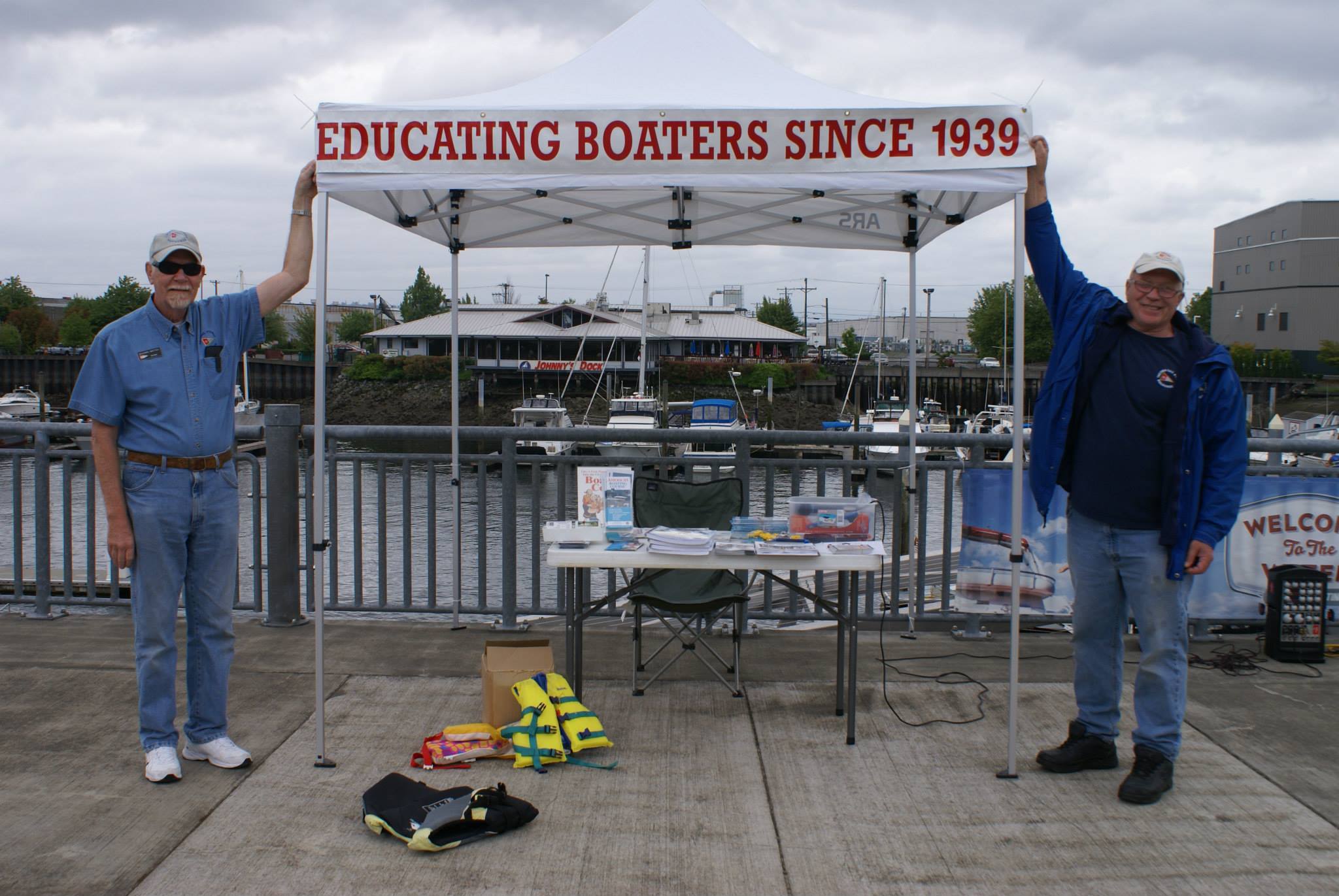 * LEARN Boating Skills

* ENGAGE with Boating Friends

* CONNECT with the Boating
Community


Special THANK YOU to all our FOOD AND TOY DRIVE volunteers and member donations. The donations will be greatly appreciated by those in need.

We are planning on resuming our in-person general meetings at Day Island Yacht Club the fourth Tuesday of each month with the first one January 25. The club will be providing a pasta meal. No need to bring anything except your choice of adult beverage.

There will be an Advanced Piloting Class starting on January 11th (Note New Date) and we plan to have a Weather class starting in February. See below for additional class information.

Next Cruise is at Arabellas (Gig Harbor) February 18-21. See below for details.


---
America's Boating Club of Tacoma and South Puget Sound is having an
Advanced Piloting
course via Zoom starting January 11 (Note New Date) for 8 weeks. Anyone who has taken Piloting may want to consider taking Advanced Piloting.
Learn to use manual navigation, radar, chart plotters, AIS, and other electronic tools in a variety of coastal tide, current and wind conditions. Learn course planning, extended cruise navigation, hazard and collision avoidance, and navigational aids. Our experienced instructors and extensive knowledge base makes you a better captain.
What's included?
Advanced positioning techniques, such as advancing a line of position to obtain a running fix
Use of a variety of electronic tools: radar, depth sounders, autopilots, chart plotters, laptop computer software, and more
Hazard avoidance techniques using electronics (e.g. avoidance waypoints or safety zones in GPS)
Collision avoidance using radar, GPS, and AIS
Working with the tide and current data to determine clearances, depth of water, and effects of current
Piloting in various wind and current conditions
Simple skills for checking that one is on course
Signup links can be found at
Tacoma Power Squadron Upcoming Educational Courses
We are planning a
Weather
class starting in February. Stay tuned for more information. We hope to have this in person.
---BOATER EDUCATION CARD---
Are you one of the many recreational boaters in Washington required by law to complete an approved boating safety education course and carry a
Washington State Boater Education Card
? If so, Tacoma Power Squadron
America's Boating Course (ABC)
instruction and testing fulfills the requirement to obtain your boaters card.
You are required to have a Boater Education Card if you fit the following criteria:
-- You operate a vessel with a 15-horsepower (or greater) motor.
-- You were born after Jan. 1, 1955.
-- You are 12 years of age or older.
---
MANY OTHER CLASSES ARE AVALIABLE VIA ZOOM
Due to the social distancing to prevent the spread of COVID-19, there are numerous squadrons in the area conducting boating education classes via Zoom. Click the following link
Course List
to see the currently available scheduled classes.
Help Needed, we need a ABC chairperson. We have instructors. We just need someone to monitor the class and help proctor the test. Most instructors prefer to remain virtual. If you feel this is an opportunity you would like to do, please contact our SEO.
---
---SCHEDULED RENDEZVOUS---

We have reserved 10 slips at Arabellas (Gig Harbor) for Presidents' Day weekend, February 18-21, 2022. Consider attending and feel free to call Arabellas and reserve your slip. And don't forget to tell Lt Cindy Warren, AP about your rendezvous preferences.

If you have any ideas or preferences on other rendezvous locations let Lt Cindy Warren, AP know.


---
Members and Guests check out our
Award Winning Wake Astern
for the most current squadron info.
---
---UPDATED STATUS FOR MARINAS, MARINE PARKS, DESTINATIONS, AND BORDERS---
For additional local marine COVID-19 information try the
Waggoner Guide website
. It contains status for marinas, marine parks and borders, and safe boating guidelines.
---
-- VSC - Schedule your safety inspection. Call/email your favorite inspector, or Susan Walker at 253-213-2850 or at sue98402@gmail.com. You can also schedule a VSC online by selecting the following link
Vessel Safety Check!
---
We are your club!
-- If you have any ideas for activities during our general meetings, other squadron events or education classes, please contact someone on our bridge.
---
If you are interested, or if you know of someone who might be interested in joining TPS, contact Jackie Mattox, (253)732-2264 or at jrgeezers@comcast.net
---