Welcome to America's Boating Club®
Tacoma and South Puget Sound where our goal is to: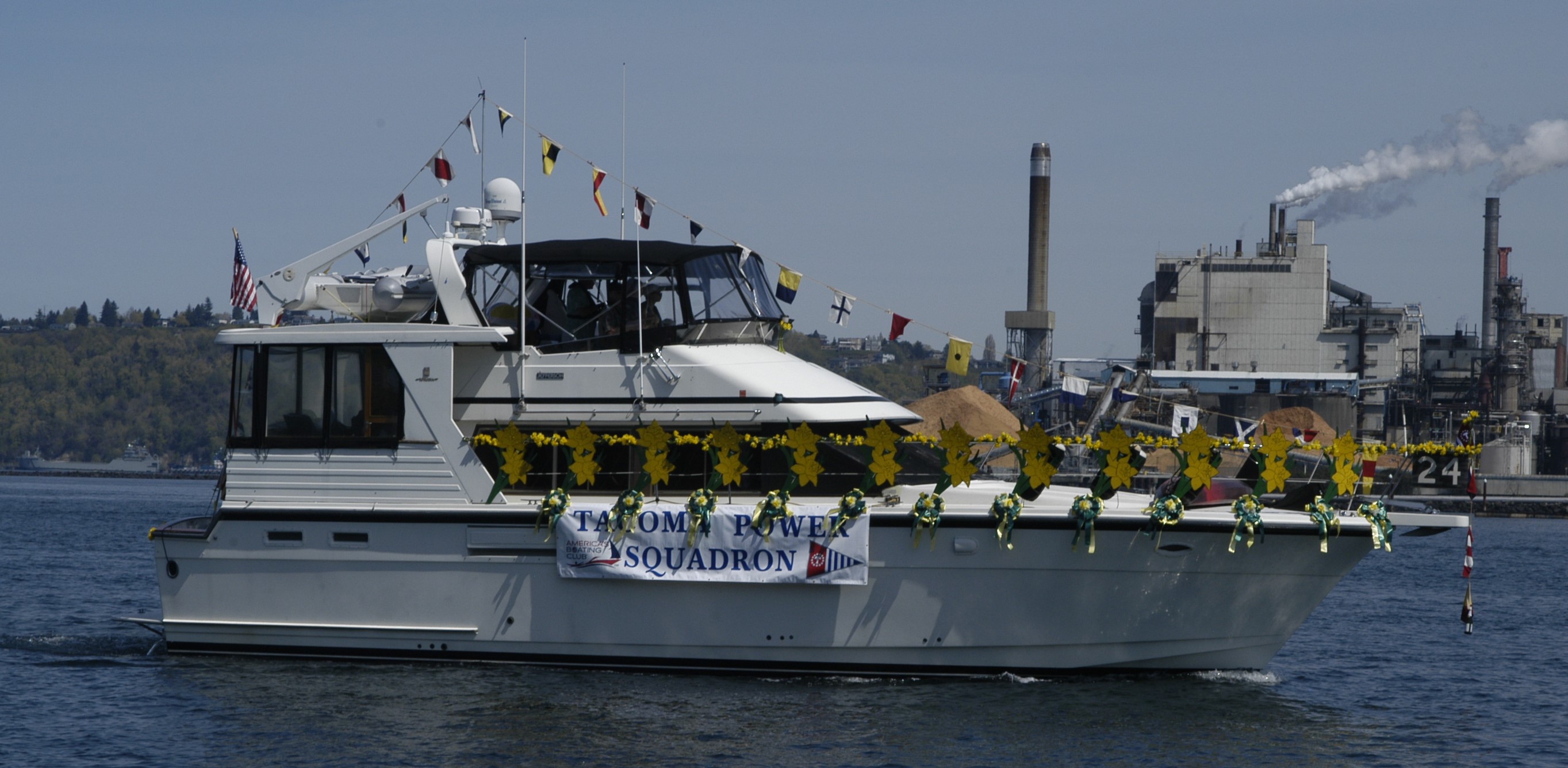 * LEARN Boating Skills

* ENGAGE with Boating Friends

* CONNECT with the Boating
Community

--NEW UPDATES--

Our social/business meetings are held at Day Island Yacht Club on (4th Tuesday of each month) starting at 1830 until 2030. Social hour starts at 6PM. If interested in the club and not a member, you are always welcome to attend.

Our May meeting is potluck so bring your own plate, utensils, and drinks (coffee and water provided)

For;
-- The 2023 Rendezvous schedule
-- Information on obtaining a Vessel Safety Check or
-- Vessel Safety Check Inspectors new requirements
(scroll down towards bottom of this page)


---

Our squadron is not currently offering classes (summer hiatus).
However, there may be squadrons in the area conducting boating education classes via Zoom. Click the following link Course List to see the currently available scheduled classes.

---
---SCHEDULED RENDEZVOUS---

May 20th, 2023, America's Boating Club of Tacoma and South Puget Sound's Annual "Cruise In" is our rendezvous held on land for all to attend. Again, this year P/C Gary and Barb Dildine have graciously extended their hospitality to host this event. This event is a cookout and potluck with fun, games, and fellowship, and also a chance to see a fabulous collection of Tractors of all ages and sizes.

June 9 - 11 Poulsbo Dist 16 Rendezvous Registration for meals and moorage must be recieved by May 18.

September 23 Salmon Bake Chuck & Vicki Sharp's Home (details will be provided in the near future)
---
Members and Guests check out our
Award Winning Wake Astern
for the most current squadron info.
---
-- VSC-- Schedule your safety inspection. Call/email your favorite inspector, or Susan Walker at 253-213-2850 or at sue98402@gmail.com. You can also schedule a VSC online by selecting the following link
Vessel Safety Check!
If this is your first VSC, reviewing the following prior to the inspection will help insure success,
VSC Worksheet
The following are some of the major reasons for Failing a Vessel Safety Check.
Visual Distress Signals - 12% .. Check they are available and not outdated.
Sound Producing Devices / Bell - 5% .. Every boat is required to have a Whistle, and or Horn.
Navigation Lights - 8% .. Ensure you bulbs are operating.
---
---Attention all Vessel Safety Check Inspectors---
According to a new requirement from the U.S. Coast Guard Auxiliary, vessel safety check examiners must read the new vessel examiner regulations. Please download, print and keep the PowerPoint presentation from the Safety webpage for reference. To confirm you have viewed the regulations, sign and date the last page for your records. You don't need to send this verification to anyone unless asked. See link below.
-- VSC Examiners -- There is a new VSC Workshop presentation that has a very good explanation on recient changes and clarification of requirements
2023 VSC Workshop
.
---
We are your club!
If you have any ideas for activities during our general meetings, other squadron events or education classes, please contact someone on our bridge.
---
If you are interested, or if you know of someone who might be interested in joining TPS, contact Jackie Mattox, (253)732-2264 or at jrgeezers@comcast.net
---
---