Welcome to America's Boating Club®
Tacoma and South Puget Sound where our goal is to: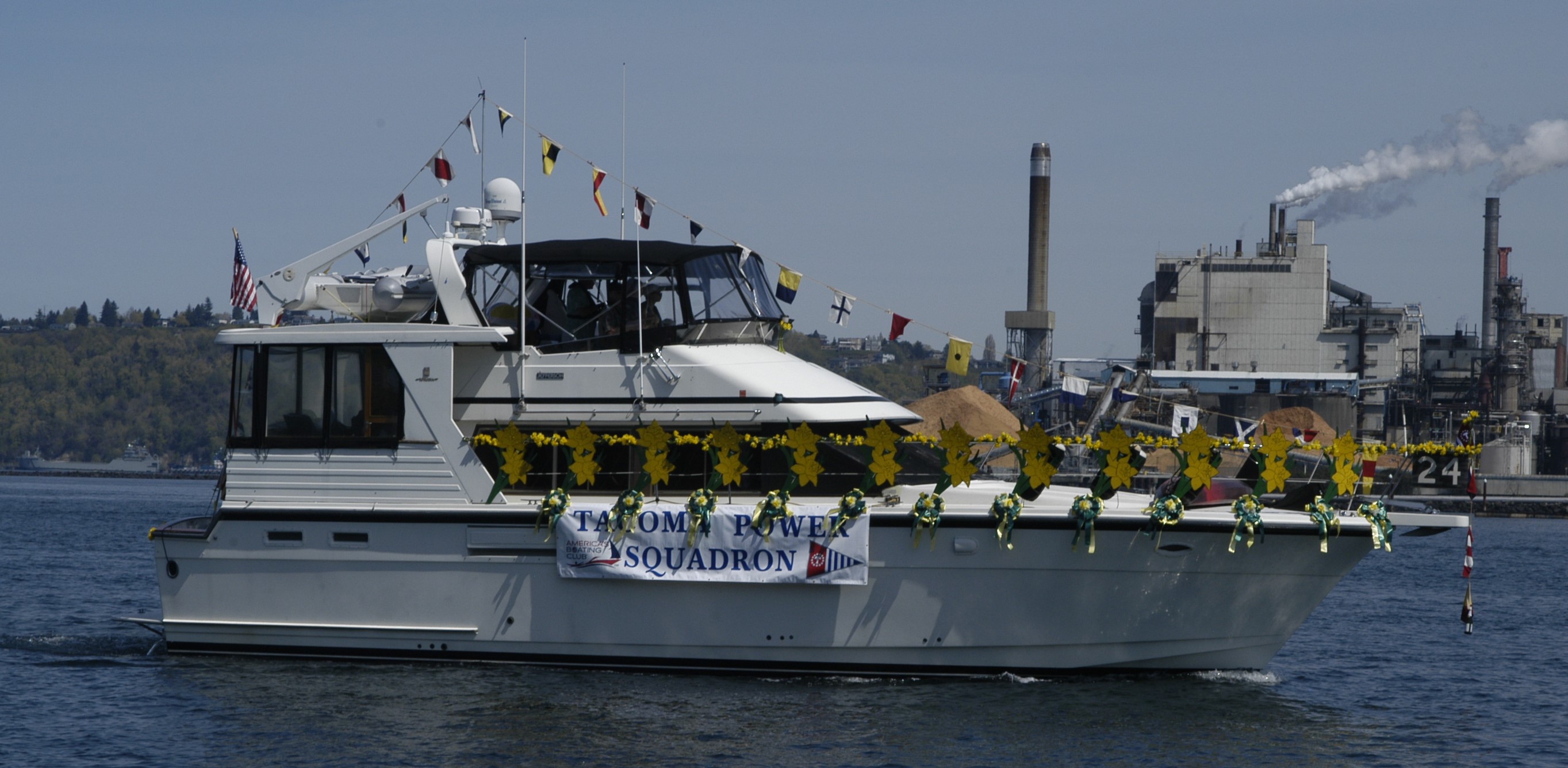 * LEARN Boating Skills

* ENGAGE with Boating Friends

* CONNECT with the Boating
Community

--NEW UPDATES--

Please note that The Salmon Bake happening at the Sharp's place has been changed from Saturday, September 23rd, 1:00PM to Saturday, September 30th, 1:00PM. See detalis below in ---SCHEDULED RENDEZVOUS--- section.

Our social/business meetings are held at Day Island Yacht Club on (4th Tuesday of each month) starting at 1830 until 2030. Social hour starts at 6PM. If interested in the club and not a member, you are always welcome to attend.

Our September meeting is Past Commanders' BBQ Sept the 26th. The club provides hamburgers and hot dogs with buns and condiments. Plan on attending and bring your plates, utensils and a side dish to share. Just as a reminder, we don't run a bar anymore, so if inclined, bring your own adult beverage

For;
-- The 2023 Rendezvous schedule
-- Information on obtaining a Vessel Safety Check or
-- Vessel Safety Check Inspectors new requirements
(scroll down towards bottom of this page)



Upcoming Classes

America's Boating Club of Tacoma and South Puget Sound (Tacoma Power Squadron) have several boating education classes this fall!

Americas Boating Course and Piloting (Typicaly taken after Americas Boating Course).

America's Boating Course starting October 16 (Mondays) for 5 weeks at Day Island Yacht Club. It is five Mondays, four 2-hour classes plus the evening of the exam. Cost is $40.
Sucessfull completion of this course qualifies for the Washington State Boater Education Card .

Taking our basic boating class reduces your risk of accidents and injuries, saves you money on boat insurance, and qualifies you for Washington State Boater's Card. America's Boating Course is the most comprehensive, single source, in-person boating course available to give you the skills you need to enjoy your time on the water and boat with confidence.

What you'll learn:
• Information about your State Boating Laws, regulations, boat registration, and licensing.
• Required boating safety equipment
• Do's and Don'ts of boating safely
• Practical Knowledge of navigation and rules of the road
• How to handle medical emergencies onboard and mechanical problems on the water

Click To Register. Then find the Course (Boating Course), Squadron (Tacoma) and Location (DayIsland Yacht Club) then click on "Click to Register"


Piloting also known as Marine Navigation via Zoom starting September 12th (Tuesdays) for 10 weeks

You won't ever get lost or run aground when you know marine navigation, whether for short day trips or long multi-day cruises.

Learn the essentials of safe coastal and inland navigation using basic GPS in conjunction with charts and other marine data. The Marine Navigation course teaches you how to use the GPS along with traditional dead reckoning techniques for planning and laying out safe routes, as well as ensuring that you are on-course while underway.
What's included?
• Charts and their interpretation
• Landmarks and navigation aids (buoys, day marks, lights, etc.)
• Plotting courses and determining direction and distance
• The mariner's compass and converting between True and Magnetic
• Use of GPS - basic GPS displays and information they provide, setting up waypoints and routes, staying on a GPS course
• Pre-planning courses and entering them into the GPS
• Monitoring progress and determining position by both GPS and traditional techniques such as bearings and dead reckoning
• The "Seaman's Eye" - simple skills for checking that one is on course


Click To Register. Then find the Course (Piloting), Squadron (Tacoma) and Location (Virtual DayIsland Yacht Club) then click on "Click to Register"


There are also squadrons in the area that also periodically conduct boating education classes via Zoom.

Currently there is a MARINE ELECTRICAL SYSTEMS class being offered by the Everett club starting September 13 virtually.

Click the following link Course List to see the currently available scheduled classes. Look for the Location: that are identified as Virtual or Zoom.

---
---
---SCHEDULED RENDEZVOUS---

The next gathering is the annual Sharp's Salmon Bake on Saturday, September 30 at 1:00 PM. P/C Chuck, AP and P/C Viki Sharp, S, have hosted this event for years while members of the Olympia Power Squadron and have invited Tacoma members after adopting us a few years back. Bring a side and plate, utensils will be provided as well as beer and non-alcoholic beverages. Their address is 5517 Kinney Road, Olympia, WA 98512. IF ATTENDING, PLEASE RSVP by calling (360) 866-7134 and leaving a message. September 23 Salmon Bake Chuck & Vicki Sharp's Home (details will be provided in the near future)
---
Members and Guests check out our
Award Winning Wake Astern
for the most current squadron info.
---
-- VSC-- Schedule your safety inspection. Call/email your favorite inspector, or Susan Walker at 253-213-2850 or at sue98402@gmail.com. You can also schedule a VSC online by selecting the following link
Vessel Safety Check!
If this is your first VSC, reviewing the following prior to the inspection will help insure success,
VSC Worksheet
The following are some of the major reasons for Failing a Vessel Safety Check.
Visual Distress Signals - 12% .. Check they are available and not outdated.
Sound Producing Devices / Bell - 5% .. Every boat is required to have a Whistle, and or Horn.
Navigation Lights - 8% .. Ensure you bulbs are operating.
---
---Attention all Vessel Safety Check Inspectors---
According to a new requirement from the U.S. Coast Guard Auxiliary, vessel safety check examiners must read the new vessel examiner regulations. Please download, print and keep the PowerPoint presentation from the Safety webpage for reference. To confirm you have viewed the regulations, sign and date the last page for your records. You don't need to send this verification to anyone unless asked. See link below.
-- VSC Examiners -- There is a new VSC Workshop presentation that has a very good explanation on recient changes and clarification of requirements
2023 VSC Workshop
.
---
We are your club!
If you have any ideas for activities during our general meetings, other squadron events or education classes, please contact someone on our bridge.
---
If you are interested, or if you know of someone who might be interested in joining TPS, contact Jackie Mattox, (253)732-2264 or at jrgeezers@comcast.net
---
---