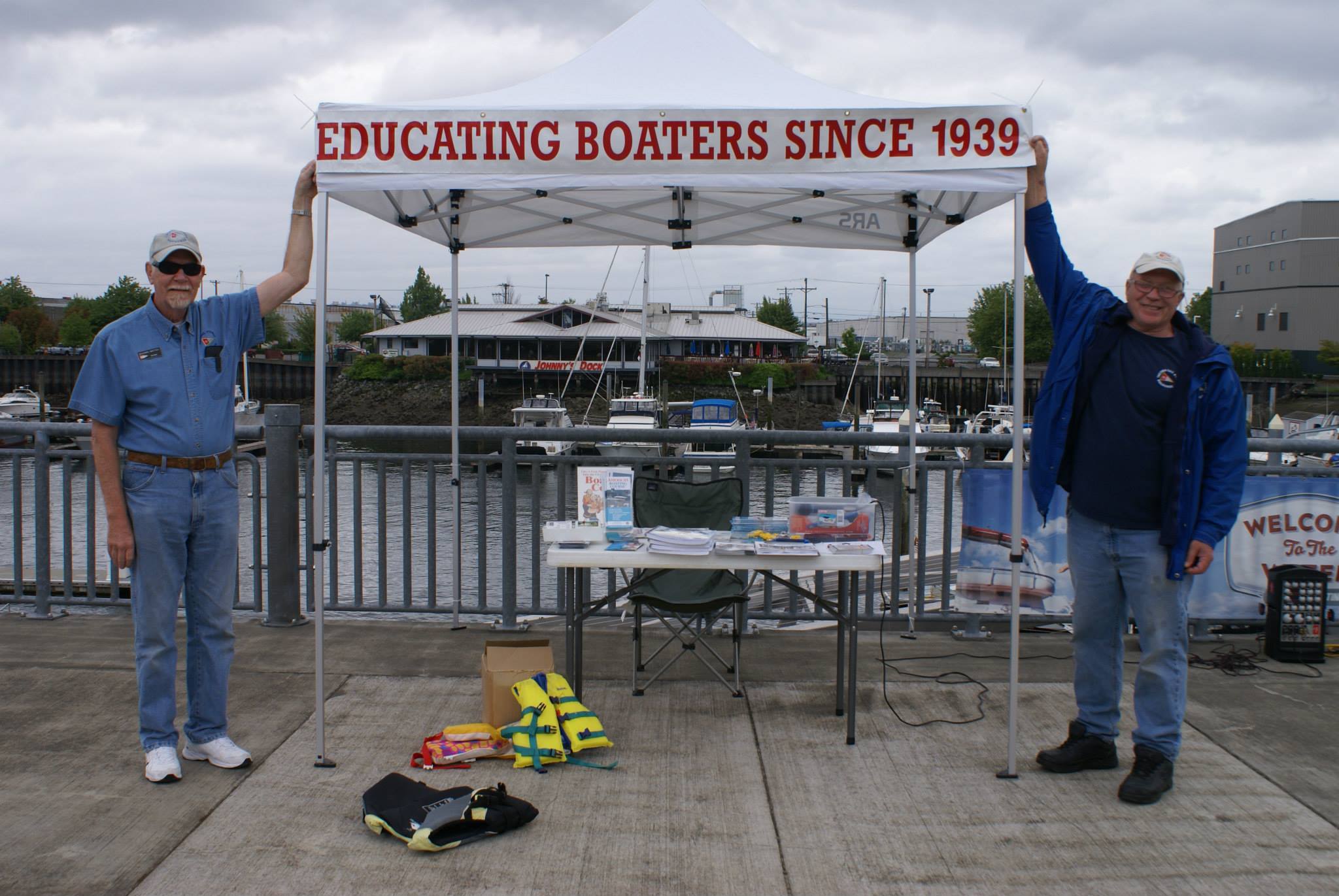 We are America's Boating Club®

Lets get educated and resume our General Meetings

Summer is coming to an end, but it is never too late to get a Washington State Boaters Card or improve your boating knowledge. We will be offering an ABC Basic Boating Class (for your boaters card) September 10.

There will also be an Advanced Piloting Class starting September 27.

See ---CLASS SCHEDULE--- below for our education class details.

The change in season also means our General Meetings will resume. Be sure to put the 4th Tuesday of each month, for our General Meetings with Potluck/Dinner 1830 – 2030, on your calendar. Visitors are always welcome!
---
---CLASS SCHEDULE---

An ABC Class will be starting on September 10, 2018 (Monday 7-9PM) and run for 5 weeks. The exam will be completed on the 5th week.

Successful completion of Americas Boating Course (ABC) Class meets the boating education requirements for a Washington State Boaters Card and may provide a discount on your boat insurance. It is an easy, fun way for you and your family to get your boaters card. Classes will be held at Foss Waterway Seaport.

A Seamanship Class will follow the ABC class, and will be completed before the Christmas Holidays. This is be a good opportunity for our ABC graduates to continue their education with the Seamanship Class.



An Advanced Piloting Class is set to start September 27th at Genesis Health and Rehab 4755 South 48th Street Tacoma, WA 908409 (7-9PM). Gary Ball will be instructing. We urge all the students who recently completed the Piloting Class to give this class an opportunity. Additional info can be found on our Education Page.

Send Otto an email or call if you are considering any of the classes. Materials need to be ordered a month before it starts. (253)-921-3839 - email- otto@ottorasmussen.com.
---

You can also sign-up for any of the classes online Tacoma Power Squadron Boating Courses


---EDUCATION HELP NEEDED---

We are looking for volunteers willing to help instruct members and fellow boaters in on the water boat handling. We get requests for instruction in regards to departing, docking and close quarter handling. In general, slow speed boat maneuvering. If you could give us a hand, please let Otto know.


---
-- VSC - Schedule your safety inspection. Call/email your favorate inspector, or Susan Walker at 253-213-2850 or at smwseattle@gmail.com. You can also schedule a VSC online by selecting the following link
Vessel Safety Check!
---
We are your club!
-- If you have any ideas for activities during our general meetings, other squadron events or education classes, please contact someone on our bridge.
---
If you know of someone who might be interested in joining TPS, contact Jackie Mattox, (253)732-2264 or at jrgeezers@comcast.net
---
As always check out your
Award Winning Wake Astern
for the most current rendezvous info.
---
Congratulations TPS Milk Carton Participants, we paddled into 1st Place in the Non-Profit Division Milk Carton Race in the Best Boat at the 2018 SeaFair Milk Carton Derby!

---
Download above 2018 Milk Carton Presentation
Additional Milk Carton pictures can be found at
Cindys Pictures-2018 Milk Carton Derby ,
Jims Pictures-2018 Milk Carton Derby , and
Steves Pictures-2018 Milk Carton Derby ,