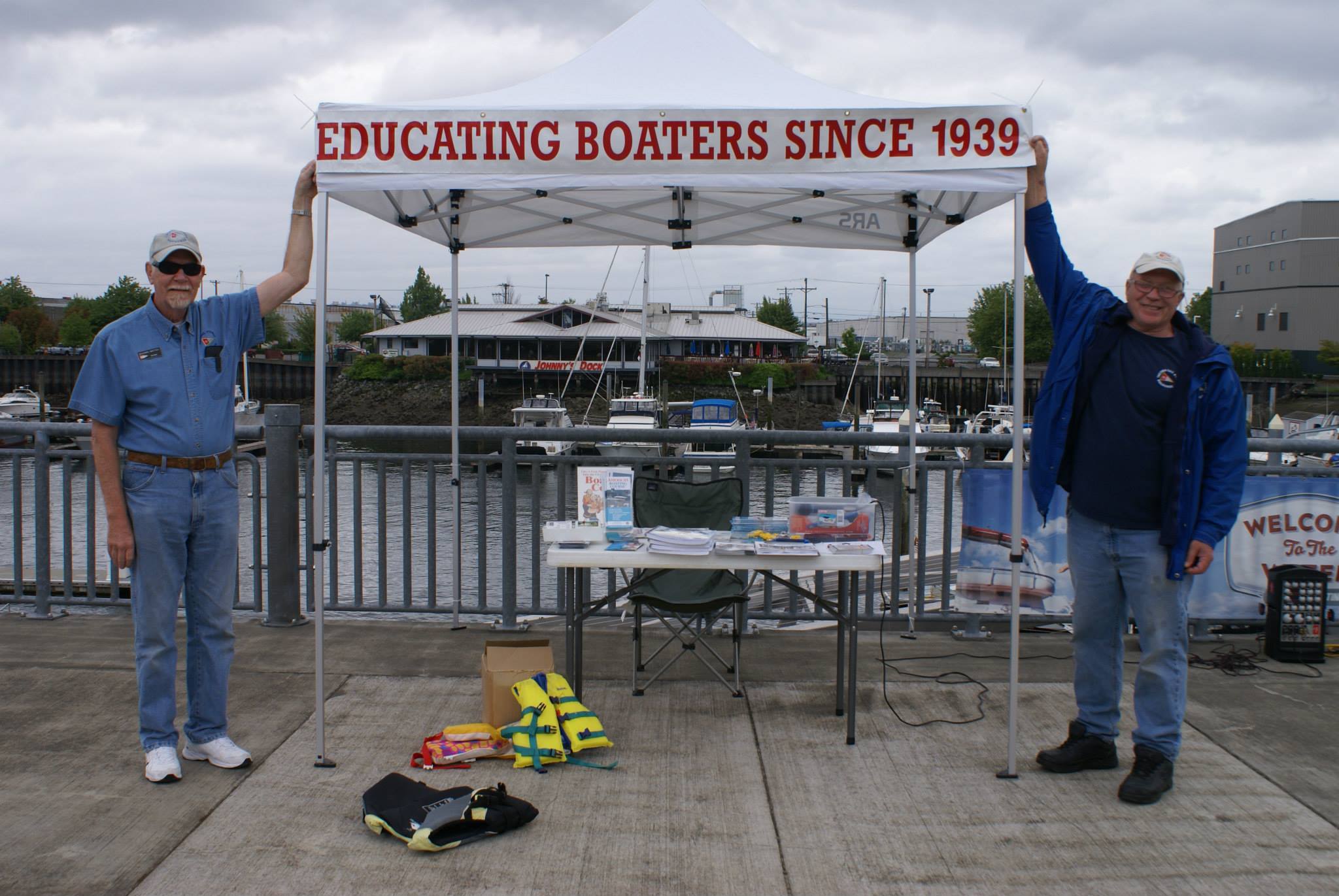 We are America's Boating Club®

The holiday season is upon us. Enjoy the season festivities, family and friends (and check your boat periodically).

-- Need a Washington State Boater Education Card? We have an America's Boating Course (ABC) Class starting on January 9th.
(See ---CLASS SCHEDULE--- below for details.)

-- The 2018 Rendezvous schedule is avalable for 2019 planning. We are looking for hosts and co-hosts.



If you have not had time to winterize your boat it is not too late! See the following links for additional information.
Winterize Your boat and trailer Winterize Your boat checklist

Also, if you maintain power on your boat over the winter months ensure your shore power cords are in good condition and fit snuggly into their receptacles. As mentioned by Cdr Mark Hafterson in the November's Wake Astern, "When you begin to run heaters on your boat it is important to always check and feel the cord at the receptacle for excessive heat build-up. You should do this within a couple of hours of using the heaters and then again within a day or two. If the cord ends feel warm you most likely have a poor connection and should make sure to correct this issue in order to prevent a fire."

We have started our 2019 cruise calendar. It is work in progress, so let us know if you have any suggestions.

The change in season also means our General Meetings have resumed. Be sure to put the 4th Tuesday of each month, for our General Meetings with Potluck/Dinner 1830 – 2030, on your calendar. Visitors are always welcome!
---
---CLASS SCHEDULE---

We are starting the America's Boating Course (ABC) Class on Wednesday January 9th, 2019 at Day Island Yacht Club, 2120 91st Ave W Tacoma, WA 98466 at 7:00 PM. The class consists of four lecture/discussions (7:00-9:00PM) Jan 9, 16, 23, 30 with an exam on Feb 6. If you have an interest in this class, please contact Brenda Williamson at 253-370-3048 or williamson.bren@gmail.com so that adequate materials can be ordered. Member and non-members are welcome.

Successful completion of Americas Boating Course (ABC) Class meets the boating education requirements for a Washington State Boaters Card and may provide a discount on your boat insurance. It is an easy, fun way for you and your family to get your boaters card.

Additional info can be found on our Education Page.

Send Otto an email or call if you are considering any of the classes. Materials need to be ordered a month before it starts. (253)-921-3839 - email- otto@ottorasmussen.com.
---

You can also sign-up for any of the classes online Tacoma Power Squadron Boating Courses


---EDUCATION HELP NEEDED---

We are looking for volunteers willing to help instruct members and fellow boaters in on the water boat handling. We get requests for instruction in regards to departing, docking and close quarter handling. In general, slow speed boat maneuvering. If you could give us a hand, please let Otto know.


---
-- VSC - Schedule your safety inspection. Call/email your favorate inspector, or Susan Walker at 253-213-2850 or at smwseattle@gmail.com. You can also schedule a VSC online by selecting the following link
Vessel Safety Check!
---
We are your club!
-- If you have any ideas for activities during our general meetings, other squadron events or education classes, please contact someone on our bridge.
---
If you know of someone who might be interested in joining TPS, contact Jackie Mattox, (253)732-2264 or at jrgeezers@comcast.net
---
As always check out your
Award Winning Wake Astern
for the most current rendezvous info.
---
Congratulations TPS Milk Carton Participants, we paddled into 1st Place in the Non-Profit Division Milk Carton Race in the Best Boat at the 2018 SeaFair Milk Carton Derby!

---
Download above 2018 Milk Carton Presentation
Additional Milk Carton pictures can be found at
Cindys Pictures-2018 Milk Carton Derby ,
Jims Pictures-2018 Milk Carton Derby , and
Steves Pictures-2018 Milk Carton Derby ,